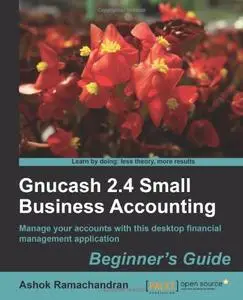 Gnucash 2.4 Small Business Accounting: Beginner's Guide by Ashok Ramachandran
English | 2011 | 324 Pages | ISBN: 1849513864 | PDF | 4,2 MB
This book is a comprehensive beginner's guide that teaches you to use GnuCash from scratch with jargon-free step-by-step tutorials packed with tips. There are multiple choice questions to make learning more interesting and additional challenges thrown at the more adventurous user for a deep grasp of the topic. This book is written for you – the self-employed, the owner, partner or leader of micro-enterprises, home businesses, Small Office/Home Office (SOHO), and other small businesses – to help you maintain your books of accounts using GnuCash.
This book is also for you – office-bearers of non-profits and students who want to learn accounting hands-on. If you are using a spreadsheet to maintain your business books and are wasting time, or you are handing over a shoe box of receipts to your high-priced accountant or are using another accounting application that is overkill for small business, get this book and download GnuCash.
My nickname -
interes