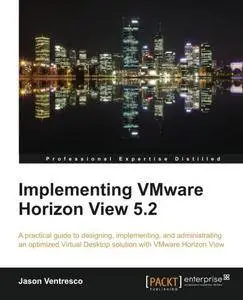 Jason Ventresco, "Implementing VMware Horizon View 5.2"
English | ISBN: 184968796X | 2013 | EPUB/MOBI | 390 pages | 31 MB
This is the perfect introduction to implementing a virtual desktop using VMware Horizon View. Step by step it gives plenty of handholding on key topics, taking you from novice to knowledgeable in no time.
Overview
Detailed description of the deployment and administration of the VMware Horizon View suite
Learn how to determine the resources your virtual desktops will require
Design your desktop solution to avoid potential problems, and ensure minimal loss of time in the later stages
In Detail
VMware Horizon View helps you simplify desktop and application management while increasing security and control. This book will introduce you to all of the components of the VMware Horizon View suite, walk you through their deployment, and show how they are used. We will also discuss how to assess your virtual desktop resource requirements, and build an optimized virtual desktop.
"Implementing VMware Horizon View 5.2" will provide you the information needed to deploy and administer your own end-user computing infrastructure. This includes not only the View components themselves, but key topics such as assessing virtual desktop resource needs, and how to optimize your virtual desktop master image.
You will learn how to design and deploy a performant, flexible and powerful desktop virtualization solution using VMware Horizon View. You will implement important components and features, such as VMware View Connection Server, VMware View Composer, VMware View Transfer Server, and VMware View Security Server.
"Implementing VMware Horizon View 5.2" will take you through application virtualization with VMware ThinApp, the implementation of Persona Management, and creation of Desktop Pools. We then cover View Client options, Desktop maintenance, and Virtual Desktop Master Image. Finally we discuss View SSL certificates management, Group Policies, PowerCLI, and VMware View Design and Maintenance to help you get the most out of VMware View.
If you want to learn how to design, implement and administrate a complex, optimized desktop virtualization solution with VMware View, then this book is for you.