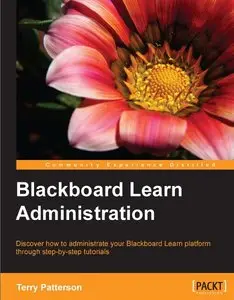 Blackboard Learn Administration by Terry Patterson
English | 2013 | ISBN-10: 1849693064 | 326 pages | PDF + EPUB | 6 + 14 MB
Blackboard Learn is web application software that allows users around the world to participate in training and educational opportunities. This software is utilized in high schools, college campuses, corporations, and government entities.
"Blackboard Learn Administration" navigates both novice and experienced administrators through the simple and complex parts of the E-Learning portal.
Readers go step-by-step with the author from planning and installing a Blackboard Learn instance to supporting and administrating a system with courses and users.
The book starts with how to plan, install, and brand a Blackboard Learn instance. Readers then learn about the creation and management of courses and users. You then learn about the tools and controls that administrator's possess within Blackboard Learn. Readers also review how to improve security and performance within their system. You then dip into complex topics such as integrating Blackboard Learn with other information systems and publisher websites.
Administrating Blackboard Learn educates the reader on the fundamental tools and tasks for basic administration, while explaining complex options that expert administrato