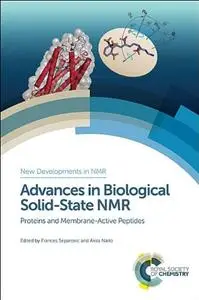 Frances Separovic, Akira Naito, "Advances in Biological Solid-State NMR: Proteins and Membrane-Active Peptides"
English | 2014 | ISBN: 1849739102 | PDF | pages: 630 | 24.4 mb
With over thirty years' experience in this field, the Editors have been active in advancing biological solid-state NMR and have seen applications in biological membranes and whole cells becoming areas of great significance. The ability to study protein and peptides in situ is an exciting development. With contributions from leaders in the field, this book will describe the methodology and applications of solid state NMR spectroscopy to studies of proteins, membrane-active peptides and model biological membranes. As well as structural studies, the Editors aim to include studies of membrane interactions and molecular motions. The book is divided into five main sections: introduction to biological solid-state NMR; applications to biological membranes; membrane proteins; protein complexes and in-cell NMR; and structural studies of amyloid fibrils. The book is essential reading for NMR spectroscopists, analytical chemists and biophysical scientists.