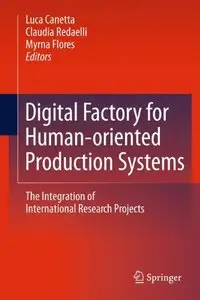 Luca Canetta, Claudia Redaelli, Myrna Flores, "Digital Factory for Human-oriented Production Systems: The Integration of International Research Projects"
S inger | 2011 | ISBN: 1849961719 | 325 pages | PDF | 7,9 MB
Digital factory is a comprehensive approach providing methodologies, models and tools that support manufacturing enterprises in the rearrangement of their organizational structures to deal with expected changes in manufacturing processes and markets.
Digital Factory for Human-oriented Production Systems investigates the impact of the digital factory through a consideration of the entire product/process lifecycle, and the broad network of product engineering, material and component suppliers, manufacturing equipment suppliers, and customers involved in current and next generation manufacturing. It covers the utilization and integration of:
human body ergonomics models;
production system discrete event simulation;
3D/virtual and augmented reality visualization;
collaborative design tools;
automatic data capture; and
knowledge management systems based on semantic web ontologies integrated by a continuous data management.
The coverage of various types of factory and manufacturing phases, representations and simulations allows researchers in academia and industry to perform a dynamic analysis and up-to-date modeling of the processes involved. Digital Factory for Human-oriented Production Systems describes the tools that allow a move towards the integrated digital factory and underlines the business impact that companies can obtain by adopting these tools. As well as benefiting international organizations, the proposed methodologies and technologies have also been developed in order to facilitate their adoption by small or medium-sized businesses, making them relevant to all product engineers and managers who want improve the efficiency and effectiveness of their enterprises.
Download