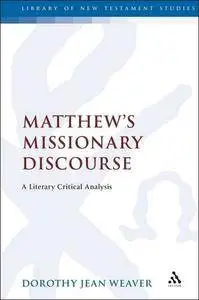 Matthews Missionary Discourse a Literary Critical Analysis (JSNT supplement) by Howell
English | 1990 | ISBN: 185075232X | 260 Pages | PDF | 5.74 MB
This book offers a distinctive solution to the interpretative difficulties surrounding Matthew's Missionary Discourse. While the discourse proper lies within a narrative framework designating the setting of its delivery, the outlined mission does not at all points agree with the designated setting. Weaver shifts attention from historical-critical to literary-critical concerns. Rather than focusing on the historical setting(s) of the disciples' mission(s), she analyses the role of Mt. 9.35-11.1 within its literary setting in the Gospel and assesses the impact of this text on the reader of the Gospel.