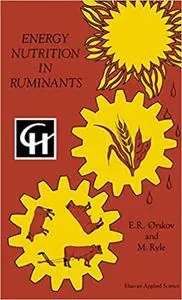 E.R. Orskov, "Energy Nutrition in Ruminants"
English | 2012 | ISBN: 1851664394, 9401068232 | 156 pages | PDF | 6.7 MB
This book is intended to be a companion volume to 'Protein Nutrition in Ruminants' (1982, Academic Press), which emphasized both the role of proteins and new systems for their evaluation. Here the focus is on energy-yielding nutrients and problems involved in evaluating them. Nonetheless in both volumes there is explicit recognition of the interdependence of energy and protein nutrition. I have not attempted to review comprehensively all the literature relating to ruminant energy nutrition and must apologize to colleagues whose work is not fully reported. Where possible tables and figures are taken from the studies of our group at the Rowett Research Institute since, if for no other reason, I am most familiar with these data. I have first considered the nutrition of the newborn and have stressed the role of behaviour 'in determining whether nutrients enter or bypass the rumen. The development of the rumen, the of anaerobic fermentation and the roles of various principles . species of rumen bacteria, protozoa and fungi in relation to different substrates, are summarized. This is followed by accounts of the factors affecting the utilization of different substrates and the v vi Preface absorption and metabolism of the end-products of fermentation and digestion, together with estimates of digestive capacity in various segments of the gut. The ruminant's requirements for energy-yielding nutrients is considered in relation to the per­ formance of various activities and to environmental conditions, particular attention being paid to the requirement for glucose precursors.