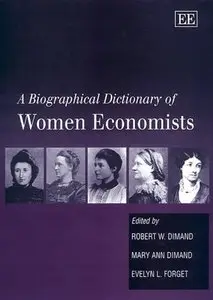 A Biographical Dictionary of Women Economists by Robert W. Dimand, Mary Ann Dimand and Evelyn L. Forget
English | 2001-01 | ISBN: 1852789646 | 520 pages | PDF | 2,2 mb
This reference contains over 100 specially-commissioned articles on the lives and writings of women who made significant contributions to economics. It seeks to shed light on the rich, but too often neglected, heritage of women's analysis of economic issues and participation in the discipline of economics.
In addition to those who wrote in English, some notable Danish, Dutch, French, German, Greek, Italian, Japanese, Russian and Swedish women economists are included. The book is dedicated to the memory of Michele A. Pujol, a pioneer in the field.