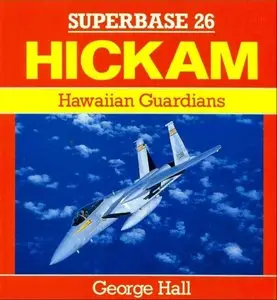 Hickam: Hawaiian Guardians (Superbase 26) By George Hall
Publisher: Osprey 1992 | 128 Pages | ISBN: 1855322005 | PDF | 19 MB
The American military presence in the Hawaiian Islands dates back past the turn of the century. The Pacific naval units operated out of Pearl Harbor, and the Army Air Corps began developing a huge facility at nearby Hickam Field in the mid-1930s. The base was named for Lt Col Horace Meek Hickam, a famous Army aviator Who was killed in a peacetime accident in 1934. By early December 1941, the Hawaiian Air Command had over 200 combat aircraft assigned to Hickam, and to the smaller Wheeler Field in the centre of the island of Oahu. Both bases were prime targets for Imperial Japanese Naval Aviation forces on the morning of Sunday, December 7th. Hickam Air Force Base is the only American base also designated as a National Historic landmark. The old Hale Makai enlisted barracks, now the headquarters building for the Pacific Air Forces (PACAF), was heavily damaged by Japanese bombing and strafing attacks, and it still shows the chilling evidence of hundreds of hits. Wise officials resisted the temptation to restore the building to its pre-war condition, and it remains the only American air base to give continuing testimony to an unfortunate fact: every now and then, historically speaking, the bad guys roll in from nowhere with guns blazing. It happened before, and it could happen again. Hickam today is primarily a transient base, buzzing day and night with military aircraft moving back and forth between the American mainland and the Far East. SUPERBASE HICKAM gives you a close-up look at typical activity on the tarmac: huge MAC C-141 and C-5 heavies in from Japan; a four-ship of F-llls and a pair of B-52s on their way to Australia for exercises; A-10 Warthogs in long, slow transit to Korea; a gleaming White House 707-320 making a stopover with the Secretary of State on board; a solemn ceremony beneath the rear clamshell doors of a StarLifter as the remains of Vietnam MIA's finally return to America.
NO PASSWORD



!!!No Mirrors below, please! Follow Rules!