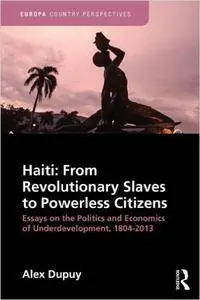 Alex Dupuy, "Haiti: From Revolutionary Slaves to Powerless Citizens: Essays on the Politics and Economics of Underdevelopment, 1804-2013 (Europa Country Perspectives)"
ISBN: 1857437101 | 2014 | EPUB / AZW3 | 172 pages | 1 MB
This title focuses on Haiti from an international perspective. Haiti has endured undue influence from successive French and US governments; its fragile 'democracy' has been founded on subordination to and dominance of foreign powers. This book examines Haiti's position within the global economic and political order, and how the more dominant members of the international community have, in varying ways, exploited the country over the last 200 years.
Many Thanks to Original uploader.
For More Rare Movies
Check out my blog!
Download Links :
No Mirrors Please