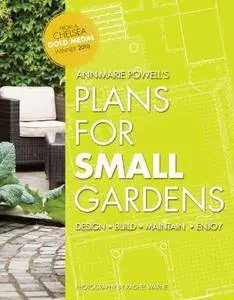 Plans for Small Gardens: Design, Build, Maintain, Enjoy by Ann-Marie Powell
2010 | ISBN: 1862058768 | English | 192 pages | EPUB | 35 MB
You see a wonderful garden on TV, at the Chelsea flower show, or at your neighbours' house, but how do you go about recreating it in your own back yard? In Ann-Marie Powell's Plans for Small Gardens, the Chelsea gold medal winner lists out all the gardening ingredients, as well explaining how to actually create and maintain your garden. This is a book that starts from scratch to allow even gardening novices to build their perfect patch. Choose your recipe - shady, courtyard, family, or edible; collect your ingredients - turf, slabs, containers and plants; and follow the simple method to put the garden together. Detailed planting and construction plans, colour photographs and a handy practical section at the back of the book ensure you have all the resources you need, while year-by-year maintenance guides guarantee that your garden will continue to flourish for years to come.