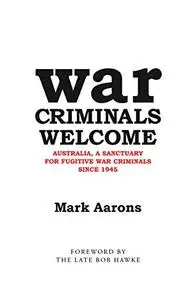 Mark Aarons, "War Criminals Welcome: Australia, a Sanctuary for Fugitive War Criminals Since 1945"
English | 2001 | ISBN: 1863953701 | 649 pages | PDF | 8.3 MB
For more than seventy years, Australia has been a safe haven for war criminals. After World War II, hundreds of Nazi war criminals illegally entered this country. Governments, both Labor and Liberal, decided to turn a blind eye. Some known killers were even recruited by Australian intelligence in the Cold War battle against communism. Others became active in Australian party politics.
Half a century later, nothing has changed. Australia continues to be a sanctuary for war criminals - including members of the Khmer Rouge, the Afghan and Chilean secret