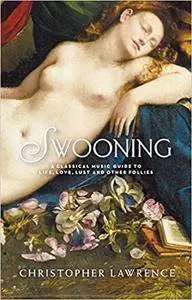 Christopher Lawrence, "Swooning: A Classical Music Guide to Life, Love, Lust and Other Follies"
ISBN: 1863957502 | 2015 | EPUB | 256 pages | 2 MB
The orchestra has tuned, the lights in the hall have dimmed, and the conductor's baton signals the downbeat for the beginning of the romance. Settle back – it's telling you something…
The history of classical music is littered with murder, sado-masochism, adultery, bigamy, fraud, riches, poverty, nervous breakdowns, bizarre habits, gluttony and terrible, terrible toilet humour (Mozart was the prime exponent of the latter). Classical music – nice? Not at all. It's the most immediate expression of mental and emotional extremes: often deceptive, sometimes dangerous and frequently a discomforting revelation.
Just as the unsuspecting listener makes the connections between classical music and certain states of mind, so Swooning documents the all too human flaws in the lives of the great composers by loosely following the sequence of emotions as experienced in a love affair – one that doesn't work out, of course.
In this fully revised and updated 14th anniversary edition, Christopher Lawrence leads us through the listening experience, from anger and Beethoven to sadness and Tchaikovsky, triumph and Wagner and freedom and Mozart – it's all here in this whimsical guide to the conduct of a romance, with some handy hints on how to make it more, well, harmonious.
One of Australia's favourite radio personalities, Christopher Lawrence boasts a career spanning more than 40 years of broadcasting. He is best known for his work with ABC Classic FM, presenting the network's Breakfast and Drive programs between 1994 and 2001. Three of the Swoon CDs that evolved out of his Breakfast program broke sales records in the Australian classical music industry, each achieving Platinum status. As an orchestral and opera recording producer Christopher has been awarded an International Emmy for Performing Arts, three ARIA Awards, a Churchill Fellowship, and the Editors' Choice Award at the Cannes Classical Awards in France. Christopher has written three best-selling books: Swooning; Hymns of the Forefathers, based on his documentary series about the history of hymns seen on ABC TV; and Swing Symphony. He can be heard on ABC Classic FM from 9 a.m. to midday presenting Mornings.