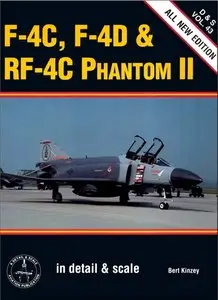 F-4C, F-4D & RF-4C Phantom II (Detail & Scale 43) By Bert Kinzey
Publisher: Kalmbach books & Airlife Publishing 2000 | 74 Pages | ISBN: 1888974257 | PDF | 26 MB
In 1978, the Detail & Scale Series was started with the idea of producing an ongoing series of aviation mono­graphs that would be unlike any published before. The focus of this new series would be the many physical details of the aircraft such as cockpit interiors, radars and avionics equipment, weapon systems, engines, landing gear, and other features. It was anticipated that serious scale modelers would make up a large segment of the readers, therefore the Detail & Scale Series also featured a modeler's section in the back of each book. This sec­tion provided accurate reviews of the model kits that were available on the aircraft that the book covered, and it also listed after-market decals that could be purchased. After six small books in this format were released, the new series of publications became so successful that Detail & Scale joined forces with Aero Publishers in 1981 to expand the series. At that time the size of each book was increased to seventy-two pages, and the basic format was formalized. Volume 1 in this new format was on the F-4C, F-4D, and RF-4C Phantoms, and several printings sold out before the color separations were lost. This loss meant that the book could no longer be reprinted, so it went out of print in 1985. Since then. Detail & Scale has received numerous requests to do new color separations and to reissue the book.
NO PASSWORD



!!!No Mirrors below, please! Follow Rules!