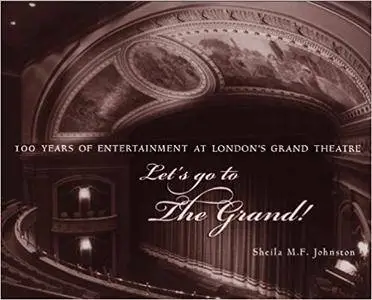 Sheila M.F. Johnston, "Let's Go to The Grand!: 100 Years of Entertainment at London's Grand Theatre"
2001 | pages: 304 | ISBN: 1896219756 | PDF | 31,3 mb
In September of 1901 London's New Grand Opera House flung open its doors. Boasting a beautiful interior design, and with the most modern stage equipment available, the theatre was large enough to accommodate over 1,700 patrons and the largest touring shows of the time. With impresario Ambrose J. Small at the helm, a new era in theatrical entertainment began.
Throughout the next hundred years, the Grand Theatre hosted everything from stock companies to minstrel shows, from vaudeville to star-studded productions. The celebrated amateur theatre company, London Little Theatre, made The Grand its home for decades. As Canadian theatre came into its own in the 1970s, The Grand embraced professional theatre status. Throughout all these changes The Grand has remained London's "Grand Old Lady of Richmond Street." Legendary performers from the past, including the Marks Brothers, Anna Pavlova and John Gielgud have graced its vast stage, as have such contemporary stage stars as Hume Cronyn, William Hutt and Martha Henry.
This extensively researched book, lavishly illustrated, lovingly documents the life of The Grand. Theatre stories from every decade of The Grand's colourful life abound throughout. To read this book is to come to know London's Grand Theatre in all its architectural splendour and its legacy in Canadian theatre history.
My Link