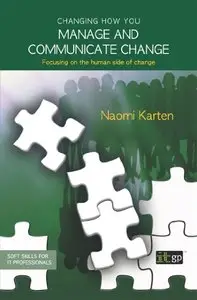 Changing How You Manage and Communicate Change by Naomi Karten
English | 2009 | ISBN: 1905356943 | ISBN-13: 9781905356942 , 9781905356959 | 180 pages | PDF | 1 MB
As heralds of change, you who work in and with IT will benefit from reading this book. You will better understand your own reactions to change and those of users, customers, employees and suppliers. You will more confidently be able to explain why a one-size-fits-all change management plan doesn t work and how to make it more flexible.
You ll understand more clearly why there is always a productivity drop when a change is introduced and how to help people get up the learning curve more quickly. This book is chock full of useful models and tips that will increase your ability to deal with change more effectively, and help others do so as well. Having spent most of her career working in and with IT organizations, Naomi Karten has written this book for IT professionals and those who work with IT. These groups are the primary audience and the context for most of the examples and stories. But everything in the book applies to any line of work, even if it doesn't entail contact with IT.