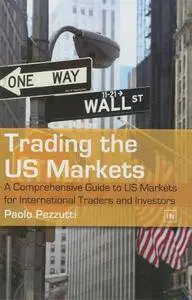 Trading The US Markets: A Comprehensive Guide to US Markets for International Traders and Investors by Paolo Pezzutti
English | 2008 | ISBN: 1905641052 | 256 Pages | PDF | 1.01 MB
Expand your trading horizons
Trading The US Markets is your guide to the complex and fascinating world of US exchanges and products. As the biggest capital market in the world, and with the largest number of financial products and listed companies, it offers unparalleled trading opportunities to the keen investor and trader.
In part one of this book, experienced trader Paolo Pezzutti describes the various markets' histories and individual characteristics, as well as their shared advantages such as:
- Quick and easy access
- An extensive range of tradable instruments
- Direct trading through a local broker
- Low commissions and fees
- Well-regarded regulation
- The greatest access to financial information available on the web
- A high standard of customer support from brokers
- A favourable time difference
In part two he goes on to discuss the mechanics of choosing a broker, opening an account in the US and the various sources of financial information that are available.
Part three covers the actual nitty-gritty of trading; everything from slippage to stop-losses, and is packed with handy tips and real life case studies to help you become a better, more successful, and confident trader.
Trading the US Markets is an essential part of any serious trader's arsenal - providing you with the resources you need to make those vital decisions about where, what, when and how to trade.