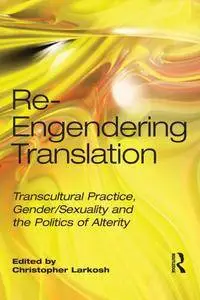 Re-Engendering Translation: Transcultural Practice, Gender/Sexuality and the Politics of Alterity by Christopher Larkosh
English | 2016 | ISBN: 1905763328 | 158 pages | PDF | 2 MB
Of interest to scholars in translation studies, gender and sexuality, and comparative literary and cultural studies, this volume re-examines the possibilities for multiple intersections between translation studies and research on sexuality and gender, and in so doing addresses the persistent theoretical gaps in much work on translation and gender to date. The current climate still seems to promote the continuation of identity politics by encouraging conversations that depart from an all too often limited range of essentializing gendered subject positions. A more inclusive approach to the theoretical intersection between translation and gender as proposed by this volume aims to open up the discussion to a wider range of linguistically and culturally informed representations of sexuality and gender, one in which neither of these two theoretical terms, much less the subjects associated with them, is considered secondary or subordinate to the other. This discussion extends not only to questions of linguistic difference as mediated through the act of translation, but also to the challenges of intersubjectivity as negotiated through culture, 'race' or ethnicity.
The volume also makes a priority of engaging a wide range of cultural and linguistic spaces: Latin America under military dictatorship, numerous points of the African cultural diaspora, and voices from South, Southeast and East Asia. Such perspectives are not included merely as supplemental, 'minority' additions to an otherwise metropolitan-centred volume, but instead are integral to the volume's focus, underscoring its goal of re-engendering translation studies through a politics of alterity that encourages the continued articulation and translation of difference, be it sexual or gendered, cultural or linguistic.
Note: My nickname -
interes