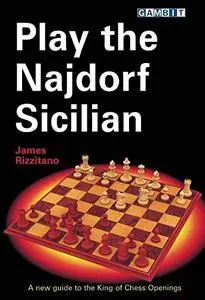 Play the Najdorf Sicilian by James Rizzitano
English | 1 May 2010 | ISBN: 1906454167 | 148 Pages | PDF | 3.05 MB
Black's stance is totally uncompromising. He accepts no organic weaknesses and stays flexible, ready to counterpunch in any part of the board. White has no safe or easy option. On the other hand, he does have a vast array of extremely dangerous attacking options, such as the old 6 Bg5 main line, which can lead to the Poisoned Pawn, a variation that has undergone much development in the 21st century. The current main line is 6 Be3, intending the English Attack. But given the Najdorf's importance, White has tried almost everything imaginable in the search for an advantage, with considerable bodies of theory evolving for lines that contain merely a drop of poison.