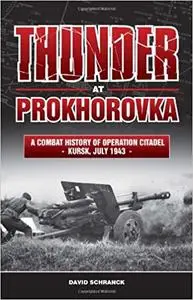 David Schranck, "Thunder at Prokhorovka: A Combat History of Operation Citadel, Kursk, July 1943"
English | ISBN: 1909384542 | 2014 | 612 pages | EPUB | 8 MB
After the defeat at Stalingrad, Hitler had lost his momentum and was looking for a way to regain it. Operation Citadel was the intended means to fulfill that objective. If successful, a number of Soviet armies would be destroyed and the front line shortened, allowing for a better disposition of troops and a chance to rebuild Germany's exhausted reserves.
This book provides comprehensive coverage of the operational events on both salients. It also includes critical analysis of both sides that points out errors of judgment or application that collectively had an important impact on campaign results. The book is highly annotated to give the reader additional sources to study and to provide additional perspectives to gain as complete an understanding of this critical campaign as possible.
Besides an extensive text, the book's key strength is its mapping - 32 full-page color maps are accompanied by 7 large foldout sheets of maps, also in color. Together these specially commissioned maps provide a remarkably detailed guide to the combat operations. Thunder at Prokhorovka is destined to become an important reference to the Battle of Kursk.