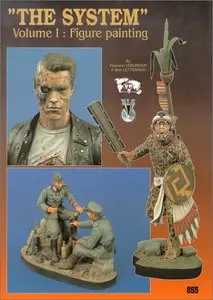 The System, Vol. 1: Figure Painting By Francois Verlinden
Publisher: Verli.,.nden Produc..tions 1993 | 50 Pages | ISBN: 1930607334 | PDF | 26 MB
This is a very useful how-to book dealing specifically with the painting of miniature figures, or figurines. The tips and techniques communicated in these pages reflect the combined experience of the authors in the field of scale modeling of almost 80 years. Each of the authors, Francois Verlinden and Bob Letterman, is universally recognized in the industry as a living legend due to his high level of realism in painting. For the first time, these two have combined there talent into one publication in order to instruct others on how to improve their painting skills. This book is packed with amazing color photographs of both finished pieces, as well as works in progress, in order to guide the reader through each step in the creation of these masterpieces. Opening a window into a world seldom seen by the uninitiated, this book belongs in the collection of every scale modeler and artist.
!!!No Mirrors below, please! Follow Rules!