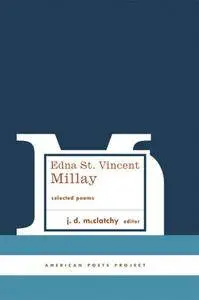 Edna St. Vincent Millay: Selected Poems (American Poets Project) by Edna St. Vincent Millay
English | 2003 | ISBN: 1931082359, 9781931082358, B00I65Z9AC | 249 Pages | EPUB | 601.22 KB
Praised by poets and critics ranging from A. E. Housman and Thomas Hardy to Edmund Wilson, Edna St. Vincent Millay's bold, exquisite poems take their place among the enduring verse of the twentieth century. Claiming a lyric tradition stretching back to Sappho and Catullus and making it very much her own, Millay won over her contemporaries—and readers ever since—with her passion, erotic candor, formal elegance, and often mischievous wit. J. D. McClatchy's introduction and selections offer new and surprising insights into Millay's achievement. Included are her most beloved and justly admired poems, such as the wry bohemian anthem "Recuerdo" and the sonnet sequence Fatal Interview, the poetic record of a love affair that is presented in its entirety. McClatchy has also chosen works that extend our sense of Millay's range: translations, her play Aria da Capo, and excerpts from her libretto The King's Henchman. "I have for the most part been guided by my taste for Millay at her tautest and truest," writes McClatchy. "There are precise and resonant images everywhere."