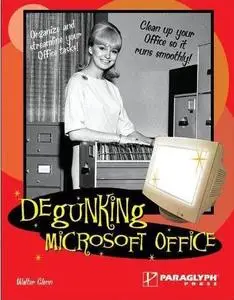 Degunking Microsoft Office by Wayne Palaia, Christina Palaia
Publisher: Paraglyph Press; 1 edition (April 23, 2005) | ISBN: 1932111956 | PDF | 72,6 Mb | 352 pages
Degunking Microsoft Office takes Paraglyph's unique "degunking" approach and applies it to running and maintaining Microsoft Office. The key applications covered are Outlook, Word, Excel, and PowerPoint — the main culprits in creating gunk on your computer. Topics include: installing or upgrading MS Office, finding and eliminating unwanted or unneeded programs, app features that break and how to fix them, ways to enhance the Office suite, how to best use free third-party tools and utilities to save time, how to fix security issues and protect your files from viruses, how to create simple macros to improve efficiency, and much, much more. Readers will learn tips and tricks to easily maintain MS Office and prevent clutter from accumulating. Some of the important issues covered include what MS options can be changed and why; what buttons users can get rid of from the toolbars, and what commands can be removed from the menus; how to best degunk documents like Word files, presentations, and spreadsheets; and how to add useful commands and shortcuts to save valuable time. No matter how experienced you are with MS Office, this book is sure to teach you some new tips to make using Office easier.
Download from Ftp2Share