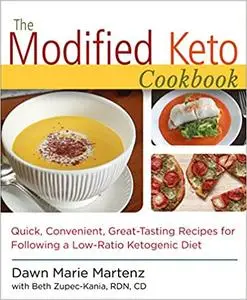 Dawn Marie Martenz, "The Modified Keto Cookbook: Quick, Convenient Great-Tasting Recipes"
English | ISBN: 1936303779 | 2015 | 192 pages | AZW3 | 3 MB
The high-fat, low-carbohydrate modified ketogenic diet, based on a ratio of fat to non-fat (protein and carbohydrates) of 2:1 and 1:1, has been used to improve seizure control in people with epilepsy. New research suggests that the diet may promote weight loss and provide benefit to those with cancer, brain injury, forms of dementia, autism, migraines and other neurological problems.
With a focus on fresh, clean eating and simple, everyday meals and snacks requiring minimal effort and time, The Modified Keto Cookbook will help even the busiest families or individuals incorporate the diet into their lifestyle and experience the rewards. Start your day with a Chocolate Peanut Butter Breakfast Shake or Baked Eggs with Cream and Herbs. For lunch, enjoy Butternut Squash Soup and Spinach and Ricotta Filled Portabella Mushrooms. Whip up Chicken Peanut Curry, Beef and Mushroom Stew, or Baked Cod with Roasted Red Pepper Sauce for a satisfying dinner. For dessert, try Refrigerator Coconut Macaroons, Chocolate Chia Pudding, or ice cream drizzled in Caramel Sauce.
Includes: Allergy-free recipes (nut, dairy, and egg free), No-cook and make-ahead meals, and suggestions to increase fat in recipes to conform to the classic ketogenic diet ratios of 4:1 and 3:1 Recipes with standard U.S. measurements and grams
"Dawn Martenz's passion as a keto mom for seven years coupled with Beth Zupec-Kania's expertise working with diet therapy for over 20 years have created an invaluable tool for any keto family. There is no doubt that The Modified Keto Cookbook will remain an indispensable resource for as long as your keto days continue."
óNancy and Jim Abrahams, Founders of The Charlie Foundation for Ketogenic Therapies, from the Foreword
"As is true of The Keto Cookbook, I expect to see many dog-eared and food-splashed copies of The Modified Keto Cookbook, which are proof of just how much families rely on these delicious and creative recipes to achieve health through metabolic therapy."
óChristine Williams-Dyjur, RD, Ketogenic Diet Specialist
"This new cookbook is a welcome addition for those who are able to follow a more liberal diet, and even those on a more classical version can easily adapt the recipes to work with their individual plans."
óGlenna Steele, Education Director, Glut1 Deficiency Foundation