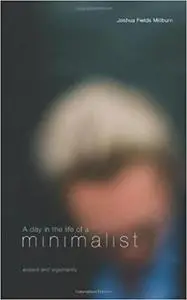 Joshua Fields Millburn, "A Day in the Life of a Minimalist"
English | 2012 | ISBN: 1938793064 | 210 pages | EPUB | 0.262 MB
At age 30, Joshua Fields Millburn left his six-figure career, ditched most of his material possessions, and started focusing on life's most important aspects. Once he embraced his newfound minimalist lifestyle, he never looked back.
Suffice it to say, everything has changed in Millburn's life in the last three years. After his mother died in October 2009 and his marriage ended a month later, he began questioning everything in his life: his material possessions, his career, his goals, his health, his relationships, his path in life. Soon he discovered minimalism.
In the three years since the author adopted a minimalist lifestyle, he has written more than 300 essays about minimalism and intentional living. He has written about his journey, his failures, his lessons, and everything he has learned during his transformation. A Day in the Life of a Minimalist is a collection of his best, most important individual writings–rethought and edited specifically for this collection.
This 208-page book contains 50 essays about living a meaningful life with less stuff, including "The Short Guide to Getting Rid of Your Crap," "The Commodification of Love," "Letting Go of Shitty Relationships," and the title essay. Collectively, these essays are purposefully organized into nine sections–lifestyle, goals, experiments, clutter, relationships, changes, philosophy, consumer culture, and work–covering a variety of topics, viewpoints, and arguments within those themes.
Also included are a special forward written by Colin Wright (the man who introduced Millburn to minimalism) and an introduction by Joshua Fields Millburn, as well as two unpublished essays that can't be found anywhere else: "What If Everyone Was a Minimalist?" and "Work-Life Balance."
These essays were written to encourage readers to think critically about the excess in their lives and, ultimately, to take action towards living more intentionally. This collection is short enough to be read in a few sittings, or it can be digested slowly, reading one essay a day for nearly two months, applying its principals each day to your own life.