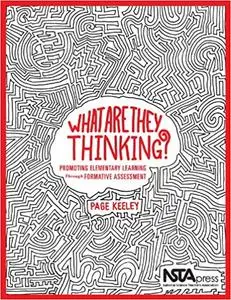 Page Keeley, "What Are They Thinking? Promoting Elementary Learning through Formative Assessment"
English | ISBN: 1938946251 | 2014 | 226 pages | EPUB | 7 MB
Children are continually developing ideas and explanations about their natural world. … Some of these ideas are consistent with the science children are taught; others differ significantly from scientific explanations. Many of these ideas will follow students into adulthood if they remain hidden from the teacher and unresolved. The challenge for teachers is to find ways to elicit these ideas and then use appropriate strategies to move students learning forward. Page Keeley, author of the bestselling NSTA Press series Uncovering Student Ideas in Science You don t have to become a mind reader to understand the ideas young students bring to science class. This collection will help you draw out and then recognize what students know or think they know about the natural world. What Are They Thinking? is a compendium of 30 Formative Assessment Probes columns from NSTA s elementary journal Science and Children. Each chapter provides: A sample formative assessment probe: a set of interesting questions that root out commonly held, often-mistaken ideas. Geared to elementary students, probe topics range from why you can see the Moon in the daytime to where water goes when it evaporates to what is or isn t a rock. Your students answers to each probe will help you take a step back and figure out how to guide them from where they are conceptually to where they need to be. Accompanying teacher notes: easy-to-grasp explanations and advice that tell you how to encourage evidence-based discussion and then monitor students understanding. A bonus feature: a set of study group questions written especially for this compendium by award-winning author Page Keeley. So forget about acquiring psychic powers. Instead, turn to What Are They Thinking? to transform both your teaching and your students learning about science.