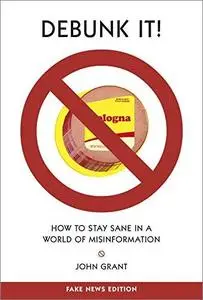 Debunk It! Fake News Edition: How to Stay Sane in a World of Misinformation by John Grant
English | September 3, 2019 | ISBN: 1942186592 | EPUB | 296 pages | 2 MB
We live in an era of misinformation, much of it spread by authority figures, including politicians, religious leaders, broadcasters, and, of course, apps and websites.
In this second edition, author John Grant uses ripped-from-the-headlines examples to clearly explain how to identify bad evidence and poor arguments. He also points out the rhetorical tricks people use when attempting to pull the wool over our eyes, and offers advice about how to take these unscrupulous pundits down. Updated to include a chapter on fake news, Debunk It serves as a guide to critical thinking for young readers looking to find some clarity in a confusing world.