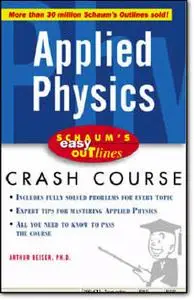 Schaum's Easy Outline Applied Physics by Arthur Beiser
English | Feb 21, 2003 | ISBN: 0071398783 | 146 Pages | PDF | 20 MB
What could be better than the bestselling Schaum's Outline series? For students looking for a quick nuts-and-bolts overview, it would have to be Schaum's Easy Outline series. Every book in this series is a pared-down, simplified, and tightly focused version of its bigger predecessor.