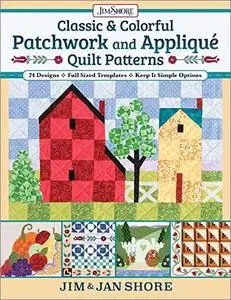 Classic & Colorful Patchwork and Appliqué Quilt Patterns: 24 Designs – Full Sized Templates – Keep It Simple Options by Jan Shore, Jim Shore
English | March 28, 2022 | ISBN: 1947163795 | True EPUB | 184 pages | 188 MB
Quilting isn't just a hobby – it's a special tradition that is passed down from generation to generation. Whether the fabric used is from a grandmother's wedding dress or a child's favorite T-shirt, every quilt tells a unique story. In collaboration with Jim Shore's wife, Jan Shore, Classic & Colorful Patchwork and Applique Quilt Patterns pays tribute to the sentimental value quilts hold, while offering 24 of Jan Shore's stunning quilt projects – including all-new quilt designs in this updated edition – to create an heirloom of your own!
Featuring clear instructions, helpful diagrams, and full-size quilt patterns, also included with each project is a charming, personal backstory, a sketch replicating the pattern by Jim Shore, and beautifully staged photography of Jim's iconic artwork that perfectly complements every quilt design and captures a complete aesthetic. Perfect for any sewing and quilting enthusiast, this heartfelt guide is a must-have source of inspiration that puts an emphasis on love, family, and tradition in the timeless hobby of quilting.