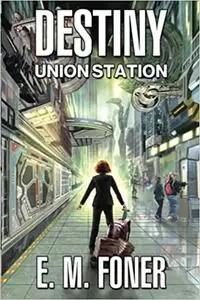 E. M. Foner, "Destiny: Union Station"
English | 2021 | ISBN: 1948691337 | 250 pages | EPUB / AZW3 | 0.6 MB
The universe has plans for Kelly and Joe, if only it put them on the same space station at the same time.
Kelly Frank is a junior employee in Earth's diplomatic service who's sick and tired of cleaning up after human tourists behaving badly. Joe McAllister is a reluctant mercenary who's looking for a way out and family-friendly place to start a business and raise an orphaned boy. Will the choices they make in the next few months shape the rest of their lives, or is free will just an illusion in a galaxy managed by ancient artificial intelligence? Destiny: Union Station takes place two years before the start of the nineteen book EarthCent Ambassador series.