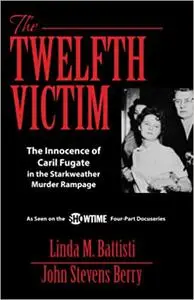 Linda Battisti, John Berry, "Medusa's Ankles: Selected Stories"
English | 2022 | ISBN: 1950091562 | 292 pages | EPUB | 2 MB
AS SEEN IN THE SHOWTIME 4-PART SERIES! In 1958, nineteen-year-old Charles Starkweather gained notoriety as one of the nation's first spree killers. He murdered eleven people in Nebraska and one in Wyoming. After a week on the run, he was arrested, later convicted, and sentenced to die in the electric chair. Starkweather's girlfriend, Caril Fugate, fourteen, was with him throughout the murder spree. Was she his hostage or a participant? This question still stirs debate more than sixty years later. Fugate claims she was too terrified to attempt escape—Starkweather had told her he would have her family killed if she disobeyed him. Unbeknownst to her, he had already murdered them. A jury found Fugate guilty of first degree murder. She was sentenced to life in prison; however, in 1976 she was paroled at age thirty-two. Now, in The Twelfth Victim, attorneys Linda M. Battisti and John S. Berry, Sr. pull together years of research to tell how Fugate was a victim of both Charles Starkweather and the Nebraska justice system.