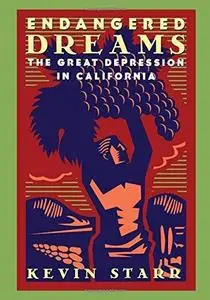 Endangered dreams : the Great Depression in California By Starr, Kevin
1996 | 432 Pages | ISBN: 0195100808 | PDF | 29 MB
California, Wallace Stegner observed, is like the rest of the United States, only more so. Indeed, the Golden State has always seemed to be a place where the hopes and fears of the American dream have been played out in a bigger and bolder way. And no one has done more to capture this epic story than Kevin Starr, in his acclaimed series of gripping social and cultural histories. Now Starr carries his account into the 1930s, when the political extremes that threatened so much of the Depression-ravaged world--fascism and communism--loomed large across the California landscape. In Endangered Dreams, Starr paints a portrait that is both detailed and panoramic, offering a vivid look at the personalities and events that shaped a decade of explosive tension. He begins with the rise of radicalism on the Pacific Coast, which erupted when the Great Depression swept over California in the 1930s. Starr captures the triumphs and tumult of the great agricultural strikes in the Imperial Valley, the San Joaquin Valley, Stockton, and Salinas, identifying the crucial role played by Communist organizers; he also shows how, after some successes, the Communists disbanded their unions on direct orders of the Comintern in 1935. The highpoint of social conflict, however, was 1934, the year of the coastwide maritime strike, and here Starr's narrative talents are at their best, as he brings to life the astonishing general strike that took control of San Francisco, where workers led by charismatic longshoreman Harry Bridges mounted the barricades to stand off National Guardsmen. That same year socialist Upton Sinclair won the Democratic nomination for governor, and he launched his dramatic End Poverty in California (EPIC) campaign. In the end, however, these challenges galvanized the Right in a corporate, legal, and vigilante counterattack that crushed both organized labor and Sinclair. And yet, the Depression also brought out the finest in Californians: state Democrats fought for a local New Deal; California natives helped care for more than a million impoverished migrants through public and private programs; artists movingly documented the impact of the Depression; and an unprecedented program of public works (capped by the Golden Gate Bridge) made the California we know today possible. In capturing the powerful forces that swept the state during the 1930s--radicalism, repression, construction, and artistic expression--Starr weaves an insightful analysis into his narrative fabric. Out of a shattered decade of economic and social dislocation, he constructs a coherent whole and a mirror for understanding our own time.