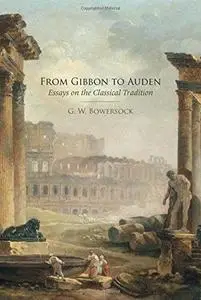 From Gibbon to Auden: Essays on the Classical Tradition By G.W. Bowersock
2009 | 256 Pages | ISBN: 0195376676 | PDF | 2 MB
For several decades G. W. Bowersock has been one of our leading historians of the classical world. This volume collects seventeen of his essays, each illustrating how the classical past has captured the imagination of some of the greatest figures in modern historiography and literature. The essays here range across three centuries, the eighteenth to the twentieth, and are divided chronologically. The great Enlightenment historian Edward Gibbon is in large part the unifying force of this collection as he appears prominently in the first four essays, beginning with Bowersock's engaging introduction to the methods and genius behind The Decline and Fall of the Roman Empire. Gibbon's profound influence is revealed in subsequent essays on Jacob Burckhardt, the nineteenth-century scholar famous for his history of the Italian Renaissance but whose work on late antiquity is only now being fully appreciated; the modern Greek poet Constantine Cavafy, whose annotations on Gibbon's Decline and Fall tell us much about his own historical poems; and finally W. H. Auden, whose poem and little known essay "The Fall of Rome" were, in quirky ways, tributes to Gibbon. The collection reprints Auden's poem and essay in full. The result is a rich survey of the early modern and modern uses of the classical past by one of its most important contemporary commentators.