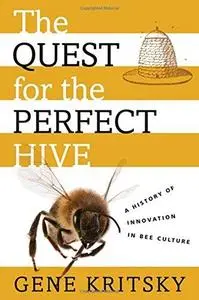 The Quest for the Perfect Hive: A History of Innovation in Bee Culture By Gene Kritsky
2010 | 211 Pages | ISBN: 0195385446 | PDF | 9 MB
Beekeeping is a sixteen-billion-dollar-a-year business. But the invaluable honey bee now faces severe threats from diseases, mites, pesticides, and overwork, not to mention the mysterious Colony Collapse Disorder, which causes seemingly healthy bees to abandon their hives en masse, never to return. In The Quest for the Perfect Hive, entomologist Gene Kritsky offers a concise, beautifully illustrated history of beekeeping, tracing the evolution of hive design from ancient Egypt to the present. Not simply a descriptive account, the book suggests that beekeeping's long history may in fact contain clues to help beekeepers fight the decline in honey bee numbers. Kritsky guides us through the progression from early mud-based horizontal hives to the ascent of the simple straw skep (the inverted basket which has been in use for over 1,500 years), from hive design's Golden Age in Victorian England up through the present. He discusses what worked, what did not, and what we have forgotten about past hives that might help counter the menace to beekeeping today. Indeed, while we have sequenced the honey bee genome and advanced our knowledge of the insects themselves, we still keep our bees in hives that have changed little during the past century. If beekeeping is to survive, Kritsky argues, we must start inventing again. We must find the perfect hive for our times. For thousands of years, the honey bee has been a vital part of human culture. The Quest for the Perfect Hive not only offers a colorful account of this long history, but also provides a guide for ensuring its continuation into the future.