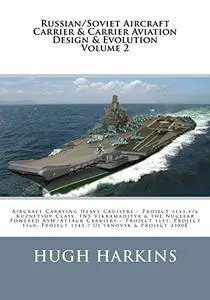 Russian/Soviet Aircraft Carrier & Carrier-borne Aviation Design & Evolution, Volume 2: Aircraft Carrying Heavy Cruisers by Hugh Harkins
English | 26 Sept. 2017 | ISBN: 1975913094 | ASIN: B075Z38C3D | 130 Pages | PDF | MB
In 2017, there were five Russian/Soviet designed and built aircraft carriers in existence, three of which were in operational service - the Project 1143.5 Aircraft Carrying Heavy Cruiser Admiral of the Fleet of the Soviet Union, Kuznetsov in Russian Federation naval service, the INS Vikramaditya (formerly the Project 1143.4 Heavy Aircraft Carrying Cruiser Baku/Admiral of the Fleet of the Soviet Union, Gorshkov) in Indian naval service and the incomplete former Soviet Project 1143.6 Aircraft Carrying Heavy Cruiser Varyag in service with the Peoples Liberation Army Navy of China as the Liaoning. The other two aircraft carriers, the Project 1143/.2 Kiev and Minsk Heavy Aircraft Carrying Cruisers had been decommissioned and formed museum exhibits in China.
This two volume series sets out to detail the stable of Russian/Soviet designed and built significant aircraft carrying vessels and their respective shipborne aviation assets. Volume 1 focused on the design genesis of the major aircraft carrying vessels of the Imperial Russian and Soviet periods, which included Seaplane Carriers, the Project 1123 Moskva Class Anti-Submarine Warfare Helicopter Carrying Cruisers and the Project 1143-1143.4 Kiev and Improved Kiev Class Heavy Aircraft Carrying Cruisers, as well as a number of early and mid-20th century aviation carrying projects.
This second volume focusses on the stable of conventional take-off and landing aircraft carriers of the late 20th century and early 21st century periods - the Project 1143.5 Admiral of the Fleet of the Soviet Union, Kuznetsov, the Project 1143.6 Varyag, the nuclear powered Project 1143.7 Ul'yanovsk, as well as the unrealised concepts - the Project 1153 and Project 1160 nuclear powered conventional take-off and landing aircraft carriers and the projected 21st century Project 23000E nuclear powered anti-submarine warfare/attack carrier. Separate chapters deal with the various rotary wing and fixed wing aviation assets that would make up the air groups of the Project 1143.5 Admiral of the Fleet of the Soviet Union, Kuznetsov and the modified Project 1143.4 INS Vikramaditya.
All technical information regarding the warships, systems and weapons has been provided by the respective design houses, developers, builder/manufacturers and operators, as has much of the photographic and graphic material used throughout the volume. The volume is also supported by textual, photographic and graphic material from third party sources, including the defence and intelligence services of various NATO nations and the historical archives of various United States and United Kingdom government agencies.