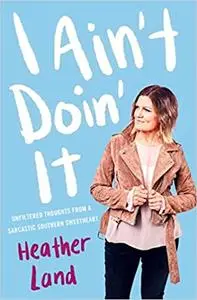 Heather Land, "I Ain't Doin' It: Unfiltered Thoughts From a Sarcastic Southern Sweetheart"
English | 2019 | ISBN: 1982104090 | EPUB | pages: 238 | 2.5 mb
Social media comedian Heather Land uses her trademark sassy, laugh-out-loud humor to remind us of the many ways that real life can be really funny.
Heather Land has something to say about almost everything in life—the unbelievable, inconceivable, and downright frustrating—and why she "ain't doin' it." In her first book, Heather shines a light on the (occasional) ridiculousness of life through a series of hilarious essays, dishing on everything from Walmart and ex-husbands to Southern beauty pageants and unfortunate trips to the gynecologist.
I Ain't Doin' It reminds us that when it comes to life's messy moments, it's all about perspective—and that we too can say, I ain't doin' it!
Perfect for fans of Jim Gaffigan, Anjelah Johnson, and Brian Regan, I Ain't Doin' It is a fun, breezy read for anyone who appreciates someone who tells it like it is and wants to embrace the lighter side of life.