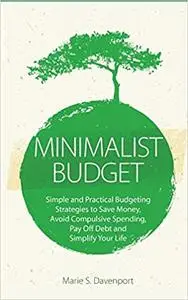 Minimalist Budget: Simple and Practical Budgeting Strategies to Save Money, Avoid Compulsive Spending, Pay Off Debt and Simplify Your Life by Marie S Davenport
English | Oct 4, 2018 | ISBN: 198973202X | 290 pages | EPUB | 1 MB
If you are struggling to save money, currently dealing with debt or have a tendency to spend compulsively and would like to find a way to get your finances back in order to reach your financial goals, read more…
Frustrated not having to save more money than you hoped for? Is debt weighing you down? Do you have a spending habit that you wish you could manage better?
According to the latest statistics, U.S. consumer debt has increased 5.1 percent to $3.918 trillion. With this problem so rampant nowadays, we sometimes feel discouraged that no solution is in sight and accept debt as part of life that we can't change. As a result, we struggle saving money and keeping our finances in order.
But this shouldn't be the case as there are ways you can apply to get out of this situation and improve with regards to money in order to reach your financial goals.
In "Minimalist Budget: Simple and Practical Budgeting Strategies to Save Money, Avoid Compulsive Spending, Pay Off Debt and Simplify Your Life", you are going to discover:
- Eight simple ways you can apply instantly to start saving money - Page 19
- How to dramatically shift your thinking from a negative mindset to a positive one when it comes to money - Page 46
-Six strategies you can use in order to budget the right way - Page 64
- Easy steps on how you can come up with a financial plan that lets you both save more and earn more - Page 85
- A seven-part solution in order to free you from compulsive spending once and for all - Page 114
- A powerful budgeting strategy that would help align your spending with your money-saving goals - Page 162
- A Bonus Chapter on saving money when dealing with the five biggest areas that take up more than 50% of our expenses. - Page 241
- Eleven practical techniques to help you get out of debt - regardless of the amount - Page 133
…and much, much more!
With easy-to-follow techniques on each chapter to help you get results - even if you have failed many times in the past budgeting your money, have a very busy lifestyle or have never tried the concept of Minimalism before, you will find strategies here that are both simple and practical to do to help you save money and fix your money problems.
Added Bonus:
- Includes a special preview of "Declutter Your Mind"
So if you want to save more money, be free from your debt troubles, reach your financial goals much faster and live more with less, own this book today to get started.