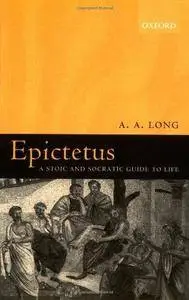 Epictetus: A Stoic and Socratic Guide to Life By A. A. Long
2002 | 336 Pages | ISBN: 0199245568 , 0199268851 | PDF | 21 MB
The philosophy of Epictetus, a freed slave in the Roman Empire, has been profoundly influential on Western thought: it offers not only stimulating ideas but practical guidance in living one's life. A. A. Long, a leading scholar of later ancient philosophy, gives the definitive presentation of the thought of Epictetus for a broad readership. Long's fresh and vivid translations of a selection of the best of Epictetus' discourses show that his ideas are as valuable and striking today as they were amost two thousand years ago. The translations are organized thematically within the framework of an authoritative introduction and commentary, which offer a way into this world for those new to it, and illuminating interpretations for those who already know it. Epictetus is known as one of the great Stoic thinkers. But he took the life and conversation of Socrates as his educational model. His Socratic allegiance, scarcely examined before, is a major theme of this ground-breaking book. Long shows how Epictetus offered his students a way of life premised on the values of personal autonomy and integrity. Never a sermonizer, Epictetus engages his students in brilliantly challenging dialogue; Long offers the first accessible study of his argumentative and rhetorical methods. This is a book for anyone interested in what we can learn from ancient philosophy about how to live our lives.