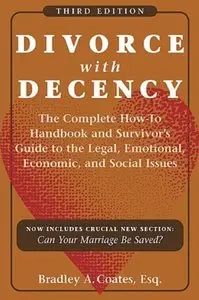 Bradley A. Coates - Divorce with Decency: The Complete How-to Handbook and Survivor's Guide to the Legal, Emotional, Economic, and Social Issues (3rd edition)
Published: 2008-08 | ISBN: 0824833104 | PDF | 245 pages | 3 MB
This completely revised and updated third edition of the award-winning Divorce with Decency includes the most current research, statistics, and insights on the effects of divorce on spouses, their children, and society overall. Written by a prominent divorce lawyer with more than thirty years of experience, it is the most comprehensive treatment of the legal, emotional, economic, psychological, and social aspects of marital relationships and divorce available anywhere in a single volume.
Initial sections look at the dynamics of divorce: the causal factors, the common "stages" from initial separation onward, and the complications surrounding each stage for older and younger couples and children. Important information on spouse abuse is also included. The book discusses key criteria in selecting an attorney and gives expert advice on directing and monitoring the course of a case efficiently and economically. Detailed background on critical legal issues is given, followed by case histories highlighting key points of divorce law. New and extensive sections have been added to the Third Edition that provide key tips on preserving, improving, and possibly "saving" marriages. The final section, "Life after Divorce," looks at the newly divorced as they face single parenthood, new relationships, and remarriage.
Informative yet highly readable (and occasionally amusing), Divorce with Decency has proven to be indispensable to anyone involved in a divorce, whether directly or indirectly.