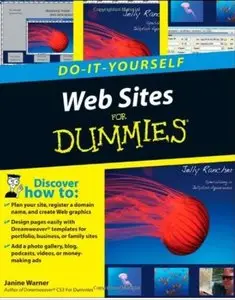 Janine Warner - Web Sites Do-It-Yourself For Dummies
Published: 2008-02-19 | ISBN: 0470169036 | PDF | 328 pages | 14 MB
Create a professional-looking Web site for your business, club, or family!
Have you ever looked at a Web site and wondered "How did they do that?" This book shows you how easy it is to do it yourself!
The illustrated step-by-step instructions in this book - as well as the templates you can download from the companion Web site - will help you create an effective Web presence fast, whether you're creating a site for the first time or redesigning an old one. All you need are the most basic computer skills and a few easy-to-find software programs, and you'll be up and running in no time.
Stuff You Need to Know
Gather all your content
Find a hosting service
Choose your favorite template design
Optimize graphics to download fast
Test and publish your Web site
Promote your site to attract visitors