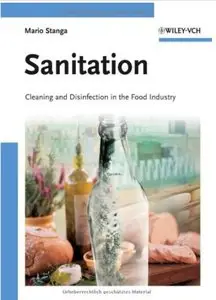 Mario Stanga - Sanitation: Cleaning and Disinfection in the Food Industry
Published: 2010-03-08 | ISBN: 3527326855 | PDF | 611 pages | 15 MB
Food safety is one of today's major concerns. One essential factor in food safety is the cleaning and disinfection of the equipment used in the food industries. Hazards may be physical, microbiological, biological or chemical agents of disease. The consequences of contamination can be extremely harmful for the consumer and the economic and legal implications for the manufacturer are often disastrous.
Finally, an up-to-date guide to cleaning and disinfection for the food preparation and processing industries. This practical book discusses a host of examples from various food industries as well as topics universal to many industries, including biofilm formation, general sanitizing, and clean-in-place systems. Equally, the principles related to contamination, cleaning compounds, sanitizers and cleaning equipment are addressed.
As a result, concepts of applied detergency are developed in order to understand and solve problems related to the cleaning and disinfection of laboratories, plants and other industrial environments where foods and beverages are prepared.
Essential reading for food technologists and chemists, students in food chemistry, chemical engineers, engineering scientists in industry, and food industry personnel.