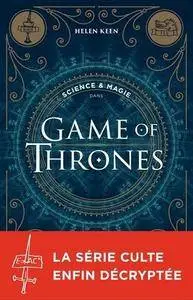 Helen Keen, Nathalie Huet, "Science & magie dans Games of Thrones"
Albin Michel | 2017 | ISBN: 2226401555 | French | EPUB | 262 pages | 2.6 MB
Apprenez comment forger la plus parfaite des épées, concocter un poison foudroyant, ou abattre un mur (supposé) infranchissable. Levez le voile sur les secrets du feu grégeois, de l'acier valyrien, et partez à la rencontre des dragons, loups géants, et autres créatures de légendes qui vivent au-delà du Mur.
Préparez-vous à découvrir le Royaume des Sept Couronnes comme vous ne l'avez jamais vu.

Biographie de l'auteur
Helen Keen est une auteure, comédienne et journaliste de radio anglaise. Elle débute sa carrière en 2008 avec It is Rocket Science son premier seule en scène. En 2015 elle réalise son premier documentaire Finding your voice sur le mutisme sélectif et lance Big Problems son nouveau concept radiophonique. La même année, elle fait partie des personnalités inspirantes sélectionnées par le Wired Innovation Fellow. Elle a remporté le WISE (Women in Science and Media Engineering) media award, et le prix de l'Association of British Science Writers. Science & magie dans Game of Thrones est son premier livre.