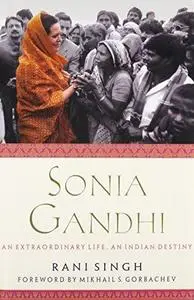 Sonia Gandhi: An Extraordinary Life, an Indian Destiny By Rani Singh & Mikhail Gorbachev
2011 | 320 Pages | ISBN: 0230341608 | PDF | 154 MB
Sonia Gandhi's story represents the greatest transformational journey made by any world leader in the last four decades. Circumstance and tragedy, rather than ambition, paved her path to power. Born into a traditional, middle-class Italian family, Sonia met and fell in love with Rajiv Gandhi, son of future Indian prime minister Indira Gandhi and grandson of Jawaharlal Nehru, while studying English in Cambridge. Cruelly tested by the assassinations of her mother-in-law and of her husband, Sonia grew into a strong, authoritative but always private figure, now president of a coalition ruling over a billion people in the world's largest democracy. Through exclusive interviews with members of Sonia's party, political opponents and family friends, Rani Singh casts new light on Sonia. In the first mainstream biography of this inspirational figure, the author s compelling narrative retraces the path of the brave and beautiful Sonia Gandhi, examining what her life and legacy mean for India.