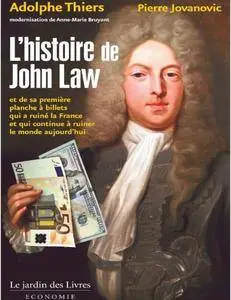 Adolphe Thiers, Pierre Jovanovic, "L'histoire de John Law : Et de sa première planche à billets qui a ruiné la France et qui continue à ruiner le monde aujourd'hui"
Le jardin des livres | 2016 | ISBN: 2369990600 | French | PDF | 240 pages | 10.8 MB
Il a séduit Le Régent! Il a berné les Français et ruiné la France… Il a inspiré Wolfgang Goethe «Faust» Il a inspiré Charles Gounod «Je ris de me voir si belle en ce miroir» Il a inspiré Michaël Boulgakov «Le Maître et Marguerite» Il a inspiré les Rolling Stones «Sympathy for the Devil» Il a inspiré des milliers d'autres écrivains et musiciens à travers le temps… Cet homme c'est John Law, un Anglais de bonne famille devenu monétariste qui a inventé le billet de banque et la «planche à billets» ou «monnaie de singe» afin de sauver la France en faillite de Louis XV. Avec toutes les planches à billets lancées aujourd'hui de manière frénétique par la Federal Reserve, la Bank of Japan, la Bank of England et la Banque Centrale Européenne des milliards de milliards d'euros, dollars, yens et livres de fausse monnaie, l'extraordinaire livre du président Adolphe Thiers est totalement contemporain et furieusement d'actualité. Intégralement illustrée et mise à jour en langue contemporaine par Anne Marie Bruyant, cette narration de la France ruinée par l'invention de la fausse-monnaie/planche à billets raconte aussi l'imminente faillite de la France pour exactement la même raison: l'usage de la fausse monnaie par la Banque Centrale Européenne, la Fed et la Bank of Japan! Ce livre exceptionnel du président Thiers avec le dossier de Pierre Jovanovic est à lire absolument pour comprendre que la seule politique menée par les économistes actuels n'est en réalité qu'une politique de faussaires «inspirés par le démon» selon Goethe. La Sympathie pour le Diable des Rolling Stones est en réalité leur sympathie pour John Law!