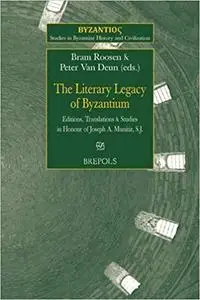 Bram Roosen, Peter Van Deun, "The Literary Legacy of Byzantium: Editions, Translations and Studies in Honour of Joseph A. Munitiz"
English, Ελληνικά, Español | ISBN: 2503583547 | 2019 | 560 pages | PDF | 5 MB
Nineteen scholars join forces to pay tribute to one of the leading scholars in Byzantine studies, Father Joseph A. Munitiz. As one of the founders of the Series Graeca of the Corpus Christianorum and because of his own exemplary work, Joe Munitiz had and has a lasting impact on the development of Byzantine studies. There is no better way to honour him and his work than to offer him a Festschrift with contributions that mimic his quality, passion, and curiosity. The Festschrift contains several firsts: the first English translation of Eustathius' Letter concerning the Two Natures against Severus, and the first critical editions (and studies) of an anonymous iambic canon on St John Chrysostom, of letter Z of the Etymologicum Symeonis, of some additions to letter A in the Florilegium Coislinianum, of a possible credo of Metrophanes of Smyrna, of a letter by Nicolas Pepagomenos to Gregory Palamas, and of Maximus Confessor's Tomos to Stephen of Dor against the Ekthesis. The innovative studies in this volume deal with the Slavonic and Greek catenae on the Song of Songs, with Athanasius' Letter to Marcelinus, with an ascetic miscellany in a thirteenth-century Atheniensis, with the so-called 'First Chapter Titles' in the second recension of the Florilegium Coislinianum, with the date of composition of the Maximian Corpus, with Raimundus Lullus' knowledge of Byzantium, with the reception of the Catalogue of Inventors in Gregory of Nazianzus' fourth oratio, and with Titus of Bostra's polemic against the Manicheans.