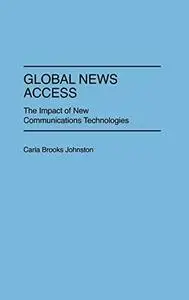 Global News Access: The Impact of New Communications Technologies By Carla Brooks Johnston
1998 | 304 Pages | ISBN: 0275957748 | PDF | 19 MB
Fascination with satellite television and Internet technology has become an obsession. People throughout the world watch television and believe what they see and hear--without realizing that pictures are selected and stories are sometimes distorted. Concurrently, the world's elite are drawn to the increasing availability of news on the Internet, effectively widening the gap between those who have and do not have access to the new technologies. This analysis of the worldwide impact of new communications technologies shows how ordinary citizens can protect themselves from media brainwashing. Interviews from across the globe shed light on this dynamic and on the roles of viewers as victims or victors in different situations. This is a book for the media professional; students and scholars in the fields of journalism, communications, political science, international relations, and business; as well as for government officials and concerned citizens who do not want to be controlled by the media.