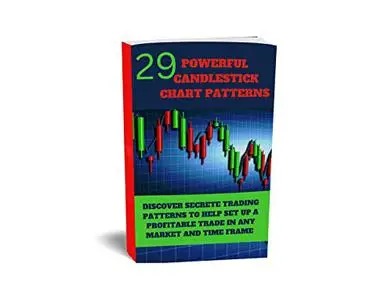 29 Powerful Candlestick Chart Patterns for Mastering Price Action in Forex & Stock Trading.: Discover Secrete Patterns To Help Set Up Profitable Trades In Any Market And Time Frame. by Emily Dhruv
English | 2022 | ISBN: N/A | ASIN: B0BM59P8P5 | 130 pages | EPUB | 2.88 Mb
If you knew how prices moved in the Forex market, would you finally become a successful trader? What if I told you that you can learn a revolutionary approach to view the market, would you take the opportunity to improve your trading skills and change your life?Welcome to 29 Powerful Candlestick Chart Patterns for Mastering Forex Trading.
Unlike most books about Candlesticks, where people feel compelled to memorize all the patterns, this book provides a rationale for why particular patterns are reliable setups for traders.
I aim to change the simple viewing of a candlestick chart into a search for the answer: "who's controlling the market? Buyers or sellers?". In this way, you will get something more than a list of patterns that you can apply on the market, you will understand how and why prices move through the study of the candlesticks.
You will understand all the secrets behind the candlestick patterns and you will approach the market with a logical perspective because this book covers all the practical aspects of trading with candlesticks. You will learn how to spot candlestick patterns in your charts, how to trade them, and how to place Stop Loss and Take profit with precision.
The easy-to-follow strategies detailed in this book will provide you profit making techniques that can be easily learned.
You will learn and understand:
How powerful and profitable candlesticks can be for your trading.
How, why and when to enter and exit a trade like apro
How support and resistance can be powerful when trading candlesticks.
How to use price action along with candlesticks to trade like a professional.
How to know when buyers or sellers are dominating the market.
Bullish and bearish reversal patterns how to distinguish them.
The effectiveness of trend continuation patterns for huge profits.
Secrete patterns that play out on your chart repeatedly.
How technical analysts use candlesticks to identify trading patterns and plan their trades.
How to predict the direction in which prices will move in the future by these candlestick patterns.
Who this course is for:Anyone interested in creating an income with online Forex Trading
Traders who want to enhance their Forex knowledge and skill-set
Anyone who is looking for proof that Forex Trading can give you Financial Freedom
Traders who want to discover how to analyze the market with the most powerful Candlestick Patterns
New traders who want to speed up their trading journey.
Feel Free to contact me for book requests, informations or feedbacks.
Without You And Your Support We Can't Continue
Thanks For Buying Premium From My Links For Support