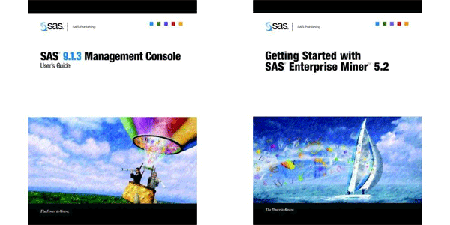 SAS(R) 9.1.3 Management Console: User's Guide
Getting Started with SAS(R) Enterprise Miner™ 5.2
SAS(R) 9.1.3 Management Console: User's Guide
Paperback: 180 pages
Publisher: SAS Institute, Incorporated (March 2006)
Language: English
ISBN: 1590471105
3,37MB
PDF
Description:
SAS Management Console is a Java application that provides a single point of control for managing resources that are used throughout the Intelligence Value Chain. This updated guide presents introductory and basic information about using SAS Management Console, including information about the following: introduction to SAS Management Console and plug-ins; connecting to a metadata server; defining a SAS environment; installing a plug-in and the associated help; and managing metadata definitions for resources such as users, servers, libraries, SAS licenses, job schedules, and XMLMaps. Although SAS Management Console runs on your desktop computer, you can use it to manage resources in all operating environments that SAS supports. This title is also available online. This guide is for persons responsible for administering SAS or various components of SAS, such as SAS Integration Technologies or SAS ETL Studio, who require information about creating metadata definitions for servers, libraries, users, and other resources that can then be used by other SAS applications or components.
Getting Started with SAS(R) Enterprise Miner™ 5.2
Paperback: 156 pages
Publisher: SAS Institute, Incorporated (April 2006)
Language: English
ISBN: 1599940027
3,97MB
PDF
Description:
SAS Enterprise Miner 5.2 is the SAS data mining solution that addresses the entire data mining process using an intuitive Java point-and-click interface. This guide introduces you to the core functionality of SAS Enterprise Miner and shows you how to perform basic data mining tasks. You will learn how to use the graphical user interface (GUI) tools to create and manage process flow diagrams and projects, and to export mining results for reporting and integration with other SAS software. The data mining tasks you will learn include sampling, exploring, modifying, modeling, and assessing data in order to create and refine predictive models. Getting Started with Enterprise Miner 5.2 provides step-by-step examples that create a complete process flow diagram, including graphic results. This title is also available online.
This title is intended for statisticians, quantitative analysts, and business technologists who want to learn to use the data mining capabilities of SAS Enterprise Miner.