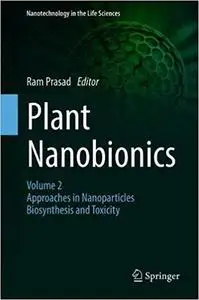 Ram Prasad, "Plant Nanobionics: Volume 2, Approaches in Nanoparticles, Biosynthesis, and Toxicity "
English | ISBN: 3030163784 | 2019 | 488 pages | PDF | 11 MB
Plant Nanobionics, Volume 2 continues the important discussion of nanotechnology in plants, but focuses with a focus on biosynthesis and toxicity.
This book discusses novel approaches to biosynthesis of nanoparticles for the increase of plant production systems, controlled release of agrochemicals and management of plant biotic stress. Green biosynthesis of metallic nanoparticles from bee propolis, artificial photosynthesis and hybrid structures are presented.
Although engineered nanoparticles have great potential for solving many agricultural and societal problems, their consequences on the ecosystems and environment must be responsibly considered. This volume aims to contribute to the limited literature on this topic through its comprehensive examination of nanoparticle toxicity on plants, microbes and human health. Environmental risks with recent data are discussed as well as risks associated with the transfer of nanoparticles through the food chain.
This volume highlights the study of a mechanistic approach and the study of nanoparticles towards nanobionics. The application of polymeric materials for smart packing in the food industry and agriculture sector as well as the future of nanomaterials in detecting soil microbes for environmental remediation are also included.