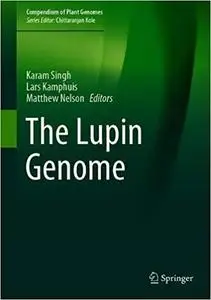 Karam B. Singh, "The Lupin Genome "
English | ISBN: 3030212696 | 2020 | 186 pages | PDF | 5 MB
This book on lupin genomics primarily focuses on the narrow-leafed lupin (NLL), and details the genomic resources that have been developed and how they are currently being used to help advance both fundamental and applied research on NLL in areas ranging from its domestication to plant–microbe interactions and syntenic relationships between NLL and other legume crops. It also reports on genomic efforts being pursued with regard to other lupin crops.
Lupins are important ecological 'engineers': they can colonise and thrive in low-nutrient soils due to their ability to fix atmospheric nitrogen in symbiosis with bacteria and efficiently take up phosphorous. Recently, lupins have attracted considerable interest, not only because of their value for sustainable farming as a break crop, but also as a potential 'super food' for fighting major health issues in connection with diabetes and obesity.
Narrow-leafed lupin is the main grain legume crop, grown primarily in Australia, and was therefore selected for the development of a reference lupin genome and associated genomic resources. Its genome has recently been sequenced with a focus on the gene-rich space, which has advanced the development of new breeding tools for the improvement of NLL and related lupin crops.